Instruments

GeneFiX™ Saliva Microbiome DNA Collection device. (MFX)
An easy-to-use saliva collection device that stabilizes microbiome DNA for over 12 months. The devices are perfect for remote or at-home testing, with an anti-spill funnel, non-hazardous buffer, and simple operation. The robust sample tubes are fully transport tested to 95KPa to allow mailing and storage.
Microbial DNA is perfectly preserved at room temperature in the pre-filled buffer for at least 1 year. The stabilization is instant, and the buffer prevents bacterial growth, so the sample accurately reflects the oral microbiome at the time of sampling. The devices and buffer are free from any trace human or bacterial DNA, so researchers can be confident in the accuracy of their results.
The sample tube is compatible with many high throughput sample processing systems and includes a unique 1D bar and human-readable code to enable accurate sample tracking.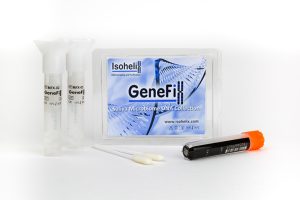 GeneFiX™ Assisted DNA Saliva Collectors (MFXA)
These collectors are especially useful where donors find it difficult to deliver saliva, such as children. The assisted kit contains the standard GeneFiX™ components and 2 absorbent swabs to assist the saliva collection. The swab is simply squeezed against the inside of funnel to release the saliva into the 1ml of stabilization buffer. Expected DNA yields are on average around 25µg and would be purified with exactly the same format and results as the standard GeneFiX™ collectors.

Isohelix DNA/RNA Buccal Swabs (SK-3S)
Isohelix buccal swabs have been specifically designed to offer increased yields of high-quality buccal cell and genomic DNA and all species of RNA. The swabs are suitable for both human and veterinary use. The swab design offers significant advantages in the efficiency of cell collection with the unique swab matrix, which in combination with a quick-release surface maximizes DNA and RNA yields. Swab batches are ethylene oxide treated and routinely tested for human contamination. Each buccal swab is wrapped individually and includes a breakpoint to quickly snap the swab head off the shaft if you wish to store the swab in a tube.

Isohelix StoolFix Gut DNA Microbiome Stabilization Kit (STF/S1/05/50)
The Latest Isohelix Chemistry Fully Optimized for Gut Microbiome DNAThis product fully protects the DNA integrity and maximizes yield for gut microbiome samples. Minimal handling improves reliability and maintains DNA structural integrity and is designed for high throughput. Room temperature storage allows for easier transportation and reduced expenses.
Extraction Services
Is your lab experiencing limited staff, time, or budget? AutoGen also provides DNA and RNA extraction services to meet the demands of any project. Our dedicated team has the expertise to extract and isolate nucleic acids from a wide variety of samples with cost-effect solutions. Learn how we can help save your lab time and effort.  For additional details or to request a quote, please contact Rob Osborn at 508.395.8161.